Sorry everyone.
Chad has been hurting quite a bit this last couple of weeks and it has been tough to sit and type. The image above shows off the lovely curve of Chad's spine (scoliosis) which was not responsible for the problems.
It started with his typical back spasming because he bent wrong or something but it didn't ease over the next few days and go away as it usually does. This went on for over two weeks and was affecting everyones sleep and what activities we could do.
It came to a head last night when pain started shooting down his right leg. It was painful when standing but excruciating when sitting or lying down so he paced the house all night. Heat, cold, stretching and ibuprofen did nothing so today he went to the best hospital in town and spent 5 hours with an orthopedist, xray techs, back to the orthopedist, waiting, MRI tech, waiting, orthopedist, physical therapist, and finally pharmacist.
The upside is that 2 x-rays, an MRI, a session of pelvic traction, several medications, and 3 consultations with an orthopedic doctor cost a total of about $375, the downside is that Chad has a herniated disc between the L4 and L5 vertebrae that is compressing the nerve root on the right side. The MRI looked very similar to this: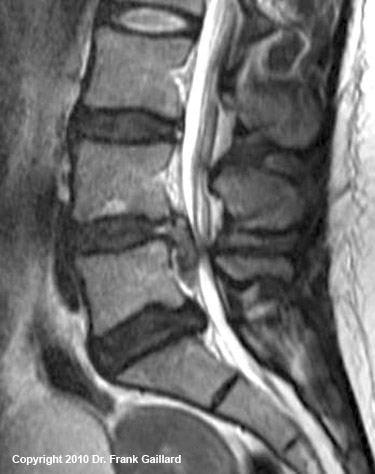 For the next week he will be taking very strong anti-inflamitories and doing some physical therapy. Even if that works for now the doctor is pretty sure he will need surgery at some point… so… not cool.
Other news –
We've had a couple different families from the congregation over for meals and have gone over to a couple of small gatherings at others homes as well. Reichen made fast friends with an Australian boy named Chet who unfortunately was only here visiting for a couple of weeks.
We had our first outing this past weekend when we spent 4 days in Pai. The valley is as beautiful as we remembered but Chad's issues did hamper the experience for everyone and we came back a day early.
We will try to get a couple more posts up discussing how field service is going and to show off our bike and truck.
TTFN